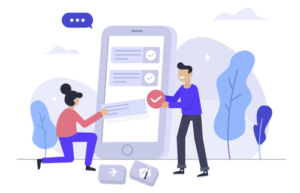 Mobile app development, as the name says, is a process of developing a mobile app by creating software applications that run on mobile devices. A particular mobile app utilizes a network connection to work with remote computing sources.
People are mostly on their phones now disregarding the feelings of their family members that so dislike it but also are on their phones all the time. Digitization has brought about some very beautiful changes in the way how things used to operate and how they operate currently. Mobile apps are one of the most important things in a person's life in 2022 and doing without a mobile or applications is kind of impossible.
Technical Yatra is one of the best mobile application development company in India. Our developers who are having great experience in App development field Develops App in IoT, Android and iOS applications supported by a strong cloud based backend infrastructure.
Mobile Applications have become most important need as it takes your business one stage forward in this technological world. Technical Yatra recognized its identity in top 5 mobile app development companies as we are specialized in fulfilling all modes of business such as B2B, C2B & B2E in business environment.
#OUR SERVICES IN MOBILE APP DEVELOPMENT
'iOS and Android' are the two dominant platforms in smartphone market as of now.
iOS is an operating system by Apple Inc., which powers Apple's popular line of iPhone smartphones. On the other hand, Android is an operating system developed by Google but Android is not only used by Google devices but also by many other Original Equipment Manufacturers (OEMs) for building their own smartphones and smart devices.
And we at 'Technical Yatra' provide our best feasible services in both iOS and Android.
There are mainly three types of Mobile Apps Development Services and we work in all three of them.
1.)  NATIVE APPS
Native application is a software application developed in a specific programming language. The native app is created and optimized for a specific platform or device, either iOS or Android.
Android apps are written in 'Java', whereas iOS apps are built using 'Swift' or 'Object C' language.
Native apps can utilize the latest technologies such as GPS, and thus they can provide optimized performance.
2.)  WEB APPS
A web application is a client side and server side computer program or software application. The act like apps but are not installed on device. Users access web apps using active internet through web browser and web technology to perform tasks.
Web applications are generally developed using coding languages that are browser supported such as HTML and Java Script as these languages depend on the browser to provide the program executable.
Some of the web applications are dynamic which requires server side scripting whereas some are static that requires no processing at the server.
The web application requires a web server, an application server and sometimes a database too to manage requests from client, to perform the requested task and to store the data and information, respectively.
3.)  HYBRID APPS
Hybrid apps, as its name says, are blend of both native and web apps. Which means they are also mobile applications that are installed on a device but what differentiates them is that the Hybrid apps are developed using HTML5, CSS, and JavaScript web standards and then deployed in a native container which allows them to be installed on a device. Facebook, Instagrams, are a few examples of Hybrid apps that can be accessed both by installing the app and using web browser.
Kickstart your business idea with a well-built Android Application
We design your desire websites and content strategies with Search Engine Optimization in mind to help your visitors find your site and return. Great content will intrigue, entertain, and inform—all while building your brand and.
Search Engine Optimization: Data traffic can be volatile and unordered. Data is information and parity in information is quite normal these days. Information is not restricted for anybody, and everybody has free access to all.
It is a technique of sending large numbers of SMS messages for delivery to mobile phone terminals. , generally to a group of people, for building relationship with prospects and customers.
First of all we need to know your main purpose of running your marketing campaign whether you want leads or web traffic, likewise whether you want maximum reach, brand awareness, store visits or customer engagement
People are mostly on their phones now disregarding the feelings of their family members that so dislike it but also are on their phones all the time. Digitization has brought about some very beautiful changes…
Electronic Commerce, majorly known as E-commerce, simply means buying and selling online. With everyone online these days, an E-commerce platform helps in reaching maximum customers at the right time to increase sales and gain profitability of the business.